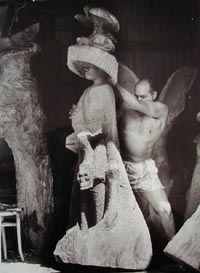 Born - September 13, 1942 in Port of Spain, Trinidad
In 1961, with Peter Minshall (later the famed theatrical costume designer), Pat Bishop, Alice Greenhall and Arthur Webb, Hinkson was one of the Five Young Artists whose work premiered at the old Woodbrook Market on French Street in Port of Spain. Through this exhibition another significant artistic link was formed with the artist, critic and poet Derek Walcott, winner of the Nobel Prize for Literature in 1994. Their work was featured in October 1998 at the State University of New York at Albany, USA.
Jackie studied at the Academie Julien in Paris and has a BA in Fine Arts from the University of Alberta. When he returned to Trinidad, He was immediately and forcibly struck by the light and rhythms. He launched himself into plein air watercolour painting - working, travelling and exhibiting throughout the Caribbean from Trinidad to Jamaica (since 1970 he has held 31 one-man exhibitions).